Delivering Compassionate and Competent Care to Your Home
Do you have a family member who is in need of a caring and helping hand? HOLISTIC TOTAL CARE is here to provide the best possible home care to your loved ones across Vancouver, BC. All of our services are designed to meet the individual holistic needs of our clients. The in-home care we offer includes: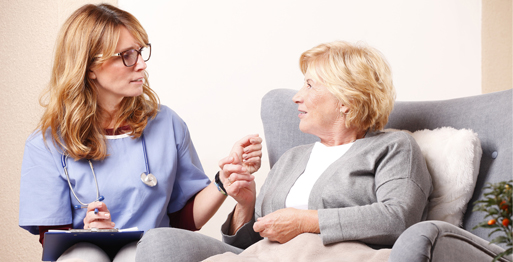 Companionship
When it comes to home care, we prioritize companionship. Our loving and attentive caregivers are qualified to provide exceptional companionship services, ensuring emotional support and meaningful connections with our clients. From engaging in conversations to going for walks, they create a warm and nurturing environment, promoting well-being and happiness. Trust us to be there for your loved ones, not only as caregivers but as genuine companions who care about their well-being.
Post- Hospital Care
Compassionate post-hospital care in the comfort of your home. Our experienced caregivers provide personalized support to aid your recovery and ensure a smooth transition from hospital to home.
Dementia and Alzheimer's Care
We understand the unique challenges and needs that individuals with dementia and Alzheimer's disease face. We are committed to providing specialized care and support to help enhance their quality of life and ensure their safety and well being. Our caregivers are trained and equipped with the necessary knowledge and skills to provide personalized assistance to individuals. They are experienced in managing the behavioural changes, memory loss, confusion, and other symptoms associated with this conditions.
Medication Reminders
Keeping track of medications can be overwhelming. Let our team provide timely reminders, ensuring our clients never miss taking their medicine and promoting their well-being.
Light Housekeeping
You can rely on our team to keep your home clean and organized. Our team is trained in doing a variety of light housework. We understand the importance of a clean living space is promoting comfort and well-being for our client. We recognize that each individual has unique preferences and needs when it comes to their living space . Our caregivers are attentive and responsive, adapting their services to align with your specific requirements.
Activities of Daily Living
Improving the quality of life of others is our top priority. We understand the significance of good personal hygiene for both health and social well-being. Our dedicated caregivers provide essential assistance with bathing, grooming, continence and toileting care, as well as other daily living activities, ensuring a safe and hygienic environment that reduces the spread of illness and minimizes the risk of medical conditions.
Meal Preparation
Our staff can prepare meals based on our client's dietary needs. We work with nutrition professionals to the specific needs and diet of our clients. We do shopping based on special diets and working to prepare the individual's favourite foods.If you have any questions or special requests, let us know.
Transportation to Appointments
We can safely take your loved one to all their medical and non-medical appointments. Contact us now to learn more about our reliable and compassionate transportation service designed to cater to your loved one's specific needs and preferences.
Grocery Shopping
Allow us to take care of your loved one's grocery shopping needs at stores of their preference and run errands, such as picking up prescriptions.
Hourly, Overnight, and Live-In
Choose the home care program that best suits your requirements. We offer hourly home care services. We also have overnight and live-in caregivers.
Home Safety Monitoring
We prioritize your peace of mind when it comes to the safety of your loved one at home. Our dedicated team offers home safety monitoring services to ensure their well-being and security. 
Respite Care
Caring for a loved one is a full-time responsibility for family caregivers. However, it is important to remember that it is acceptable to seek help and take occasional breaks. In fact, taking breaks and asking for assistance can be crucial for your own well-being. Holistic Total Care offers respite programs that allow you and other family members to have time away from your caregiving duties. These programs provide an opportunity for you to relax, rejuvenate, and return to your loved one with renewed energy and focus. The respite services are specifically tailored to promote your well-being and enhance the connection with your loved one upon your return.
On-Call Services
With our on-call services, you can count on us whenever you need assistance. Don't hesitate to reach out to our reliable team, as we are always ready to help you with compassionate care.
Palliative Care
Our caring team understands the unique challenges faced by individuals and their families during advanced illnesses, and we are fully committed to enhancing their quality of life through personalized assistance. Our experienced caregivers provide invaluable emotional support, companionship, and assistance with daily activities throughout their palliative care journey. We prioritize the creation of a comforting and safe environment, ensuring that clients and their families feel supported and cared for. Our dedicated team of healthcare professionals is deeply committed to enhancing the quality of life and providing holistic support for both patients and their families. We are here to support you every step of the way.
Our caregivers are committed to delivering safe and effective care to all of our clients. We want to provide our clients' families with peace of mind, knowing that their loved ones are in capable hands. Our goal is to help improve the quality of life of seniors through health maintenance and independent living. In addition, we strive to give their social and spiritual needs the necessary attention.